Webinar: Child Maltreatment and Intimate Partner Violence During COVID-19
With families on lockdown together, stewing in the stress of COVID-19 day after day, calls to L.A. County's domestic violence hotline have spiked. By the same token, with children hidden from teachers, coaches, and others who might report abuse, calls to the hotline of the L.A. County Department of Children and Family Services (DCFS) have plummeted.
Although home visitors aren't able to meet with their clients in person, they still continue to play a critical role in helping families stay safe and healthy.
In this webinar, Tania Benacerraf, Director of Behavioral Health and Child Welfare Programs at California Hospital Medical Center, shares how home visitors can overcome the challenges of virtual visits to continue assessing and monitoring risks and signs of abuse, neglect, and intimate partner violence. She shares best practices and provides resources that home visitors can use to help clients who may be experiencing this (or are at risk of experiencing it).
(See below for related resources and tools for home visitors.)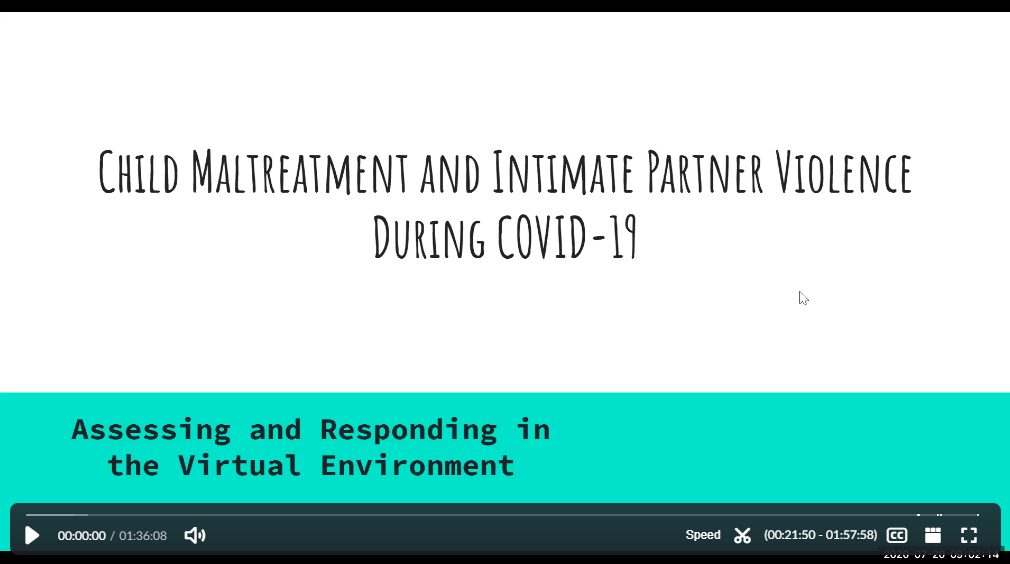 Related Resources
Presentation slides: Child Maltreatment and Intimate Partner Violence During COVID-19
Crisis and resource hotlines (also included in presentation slides and recording above):

In immediate danger? Call 911.
L.A. County Domestic Violence Safety Plan Hotline: 800-978-3600
National Domestic Violence Hotline: 800-799-7233. Can't speak safely? Text LOVEIS to 22522.
Child Abuse Hotline: 800-540-4000
Psychiatric Mobile Response Team (PMRT): 800-854-7771
National Suicide Prevention Lifeline: 800-727-4747
Teen Line: 310-855-4673
Shelter Availability and Food Banks: 211
National Sexual Assault Hotline: 800-656-4673
LGBTQ National Hotline: 800-843-4564