Janice French Receives Lifetime Achievement Award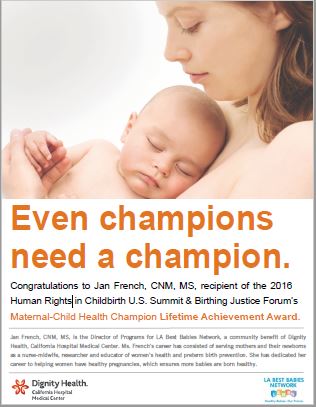 Congratulations to Janice French, Program Director of LA Best Babies Network, who was recognized May 26 at the Maternal Child Health Champion Awards for decades of important contributions to the field of maternal and child health. Jan received a Lifetime Achievement Award at a ceremony that capped the day-long Human Rights in Childbirth US Summit and Birthing Justice Forum at the California Endowment.
Jan has spent her life advancing the cause of healthy childbirth and maternal and infant wellness. Her passion for helping pregnant women and babies has taken many forms over the years: clinically, as a nurse-midwife; academically, as a faculty member at the University of Colorado Health Sciences Center School of Nursing; and in various research roles related to women's health and preterm birth prevention.
But it may be in her current role that she is making the greatest impact promoting the health of mothers, infants, and families. As the Director of Programs at LA Best Babies Network in Los Angeles, Jan works tirelessly to manage the growing Family Strengthening Network of home visiting programs, including Welcome Baby, which provide services to more than 8,000 moms and their families throughout L.A. County. Welcome Baby and its partner home visiting programs are available at 14 hospitals and 25 community-based organizations in the county.
Naveen Sangwan — who, as COO of PAC/LAC, worked closely with Jan for many years — praised Jan effusively when she introduced her at the event. Watch the latter part of her remarks, followed by Jan's comments as she accepts her award:
A few photos from the event: