El Nido and Valley Presbyterian Celebrate First Year of 'Welcome Baby'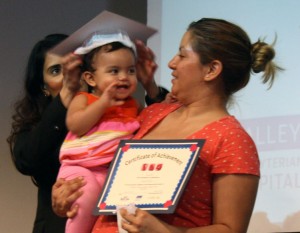 Moms, dads, babies, and the people who serve them gathered at Valley Presbyterian Hospital in Van Nuys to celebrate the first year of their Welcome Baby program.
The June 29 ceremony honored two dozen families who have completed the program, which is run in partnership by the hospital and El Nido Family Centers in Panorama City. After enjoying a catered lunch, moms received gift bags and graduation certificates, which they displayed on stage along with their babies, who sported mini-mortar boards.
Welcome Baby provides free parenting education and support services to all families who deliver at Valley Presbyterian (and these 13 other hospitals throughout L.A. County). Moms receive a visit at the hospital and may also receive special prenatal services and visits in their home (or at a place of their choosing) through the baby's first nine months.

"Welcome Baby is like a second family for me," said Deidra Chattams, who was the first mom to enroll in the hospital's program. "Jessica [my parent coach] was so amazing. She always goes over and beyond what she has to do, and it feels so good to know that she cares so much."
Deidra said the extra support from Welcome Baby was a real life-saver. Literally.
Three days after returning from the hospital with her baby, she received the standard visit from a Welcome Baby Registered Nurse.
"During my visit," recalls RN Blandine Hendleman, "I checked her blood pressure, and it was quite high, so I called her OB. The OB decided that she had to go back to the hospital ASAP. I helped her pack her bag and her baby bag, and off she went to the hospital, where she stayed for a couple of days."
Deidra had enrolled in Welcome Baby before she knew she had preeclampsia, which was the cause of her high blood pressure. "At first, I was hesitant about signing up," she said. But she understood there was no commitment, "so I figured I'd give it a try. And now I'm like, 'that was the best choice I made in my life!' "
Since the launch of their Welcome Baby program last year, El Nido reports these outcomes for the families they serve:
100% of babies received on-time immunizations
97% have health insurance coverage
97% of babies were screened for developmental delays
93% of all babies were breastfeeding during their nurse visit (a few days after delivery)
42% were still breastfeeding at the nine-month (final) home visit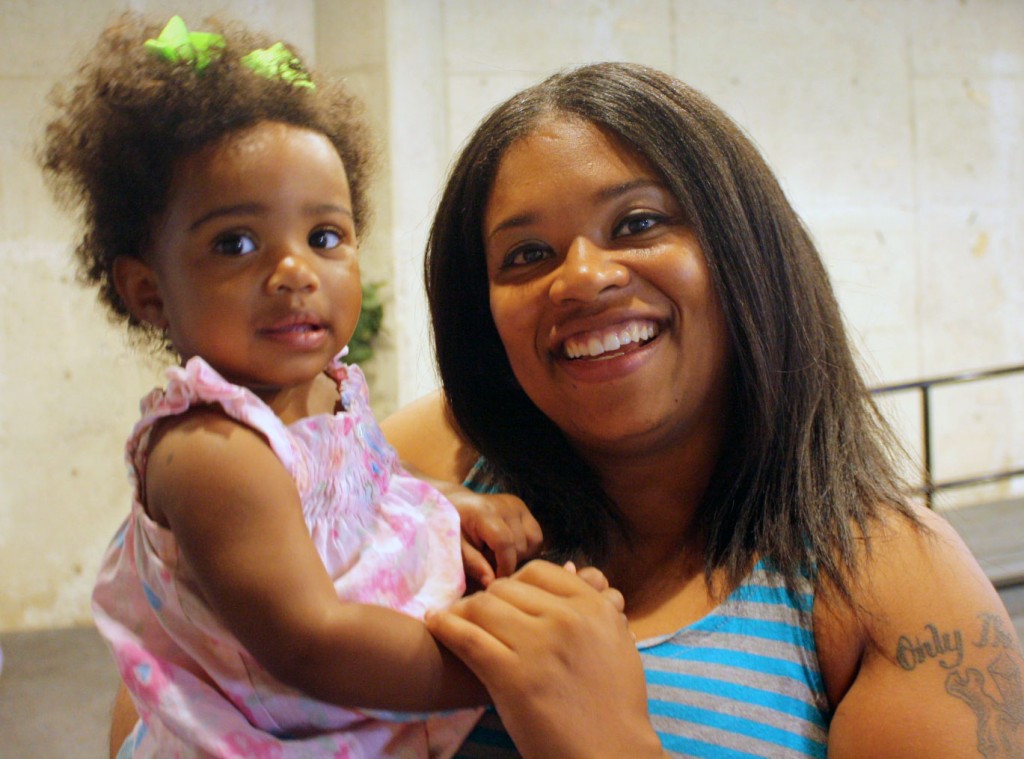 Gayathri Jith, a senior vice president at the hospital who helps lead the Welcome Baby program, is optimistic about its growth potential: "In the coming years, we hope to serve even more mothers and their babies and create a network of families that all benefit from what the Welcome Baby program has to offer. Together, we have created a community where our children are safe, loved, healthy, and ready for school."
Funded by First 5 LA, Welcome Baby is available at 13 hospitals throughout Los Angeles County. The program is part of a network that provides health and parenting education, plus support with breastfeeding, home safety, and infant development. Welcome Baby also helps families secure health insurance coverage and connects them with social and community support services, as needed.