ChooseHealthLAMoms.com Helps New Moms Achieve Healthy Weight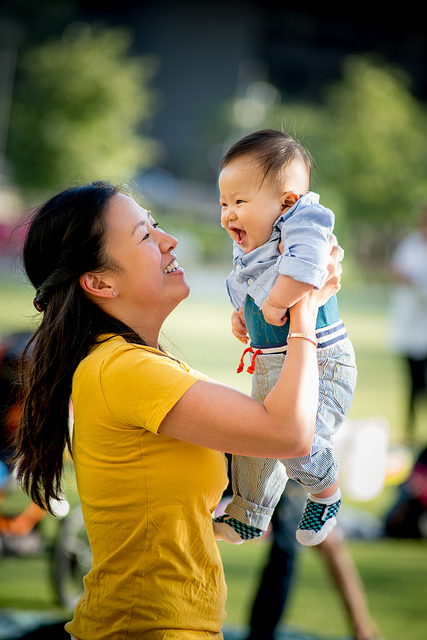 This week the Los Angeles County Department of Public Health launched ChooseHealthLAMoms.com, a free online resource to help new mothers in L.A. County get healthy after having a baby. By encouraging three simple activities — exclusive breastfeeding, drinking water, and walking — the website aims to help new moms return to a healthy weight.
Moms can create an account on the website to get free lessons, text reminders, and a weekly tracker that helps them monitor their activities and weight-loss goals. Also available: a library of useful resources on nutrition, mental health, stress, pregnancy planning, and overcoming barriers to health. The site is funded through a grant from First 5 LA.
In L.A. County, 46% of postpartum women are overweight or obese, but ChooseHealthLAMoms.com may help women tip the scales in their favor. In initial pilot testing of the program, about half of the moms reached their pre-pregnancy weight only two months after giving birth. Compare that to previous studies showing that only 36% of women reach their pre-pregnancy weight within six months.
"Mothers play a critical role in teaching and modeling healthy behaviors for their families, and ChooseHealthLAMoms.com gives women the tools they need to get their health on track," said Cynthia Harding, MPH, Interim Director, Los Angeles County Department of Public Health. "In a short amount of time, this program has already proven effective in building healthy habits that will have a positive impact on families in L.A. County."
"Being overweight or obese during pregnancy is linked to poor birth outcomes, lower breastfeeding rates, and obesity-related health problems for both the mother and baby," said Dr. Diana Ramos, MD, MPH, Director of Reproductive Health, Los Angeles County Department of Public Health, Maternal, Child and Adolescent Health Programs. "Showing a postpartum mom how to obtain a healthy weight will not only impact and improve her health, but potentially her family's as well."
"Our goal is to support moms wherever they are and when it is convenient for them," Ramos said. "This evidence-based postpartum weight management program can supplement their health provider's recommendations."
Resources
If you work with pregnant women or new moms, encourage them to register with ChooseHealthLAMoms.com. And take some time to browse the resources yourself. You'll find plenty of helpful information and lots of printable handouts that you can give your clients. Resources are organized by topic:
Have you registered with ChooseHealthLAMoms.com? Do you know a mom who has? Did you find any resources there that were especially helpful? Share your thoughts in the comment box below. Thanks!