We Oppose the "Public Charge" Rule Change. Here's Why.
[Update 3/11/2021: The Trump Administration's 2019 public charge rule is permanently blocked, nationwide. DHS/USCIS will follow the policy in the 1999 Interim Field Guidance. Under this policy, it is safe for immigrants and their families to access health, nutrition, and housing programs for which they are eligible.]
A physician writing recently in the New York Times called it a "tortured choice for immigrants: your health or your green card."
That's what immigrant families living in the United States could face if the proposed change to the "public charge" rule is allowed to go forward: either meeting their family's basic needs (health care, nutrition, housing), on the one hand, or securing their ability to receive permanent legal status, on the other.
A "public charge" is someone deemed likely to be primarily dependent on the federal government for subsistence. Current policy only considers cash-assistance programs and government-funded, long-term institutional care for the "public charge" test. But the proposed change would expand it to include Medicaid, SNAP, and housing-assistance programs.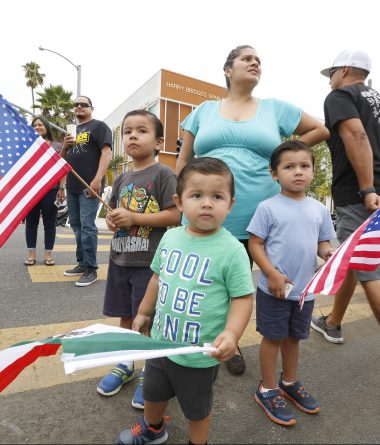 Before the proposal can take effect, the Department of Homeland Security must accept public comments, which they will do until December 10, 2018, at 9:00 pm PST. LA Best Babies Network (which maintains this blog and helps oversee the Family Strengthening Network) has submitted a comment opposing the rule change. Our statement is reprinted below.  Feel free to draw on it for ideas, but be sure your comment is unique.
Submit a Comment on the "Public Charge" Rule Change
Individuals: Go to the federal government's comment form or use the Protecting Immigrant Families comment form.
Organizations: Use the federal form, which includes a field for organization name. Note that this is not considered lobbying and should not jeopardize 501(c)(3) status. If your organization has questions, check with your funder or consult the Council on Foundations' Rules of Advocacy and Lobbying or Bolder Advocacy's free technical assistance. If your funder is First 5 LA, note that they have taken an official stand opposing the "public charge" rule change. Most major health care chains have also formally opposed it.
LABBN's Statement on the Proposed "Public Charge" Rule Change
L.A. Best Babies Network (LABBN), a community health benefit of Dignity Health – California Hospital Medical Center in Los Angeles, strongly opposes the Department of Homeland Security's proposed rule change to "public charge." LABBN requests that the proposal, in its entirety, be withdrawn immediately.
No family should be punished for seeking access to health care, nutrition, and affordable housing programs. No pregnant woman should be afraid to seek essential perinatal health services. No parent should be punished for working low-wage jobs and failing to meet an onerous "wealth test" in order to secure citizenship or legal residency. And no mother or father should be afraid to help meet their children's basic needs.
But this is exactly what the proposed regulation would do. And with one in four American children having at least one immigrant parent, the cruel and devastating impact would be felt by millions of babies and kids. It would make our neighbors – and the whole country – sicker, poorer, and hungrier.
As the Center on Budget and Policy Priorities points out, "the harm would be particularly acute for pregnant women and young children — and the young children affected would typically be citizen children — who may lose access to benefits that would lead to better long-term outcomes, including better health, greater educational attainment, and brighter future earnings prospects."
At LABBN, we oversee programs that provide health care and social support to pregnant women and families with newborns and young children in Los Angeles County, including a large number of immigrant families. We have seen up close how this proposal is already causing scared parents to decline services that would help meet the basic needs of their children.
The pregnancy and newborn-care programs we work with would be exempt from the rule change, but outreach teams who recruit pregnant women report that families are now afraid to enroll in our programs for fear of jeopardizing their legal residency. Clinics that primarily serve Medi-Cal patients are nearly empty, as are WIC offices (which, of course, would also be exempt from the public charge rule change).
According to the March of Dimes 2018 Premature Birth Report Card, the preterm birth rate in the United States has worsened for a third year, rising to 9.93 percent in 2017. If this rule change is allowed to go forward, it will make immigrant families even more afraid to access basic pregnancy-related services that are proven to reduce preterm births as well as infant and maternal mortality. The result: increased risk of death, disability, and other health-related problems for children and mothers (see CDC's webpage on preterm birth). Even in cases of healthy births, the rule change would deter new mothers from receiving critical postpartum care.
We work to support healthy pregnancies and strong families, and this rule change would severely undermine our ability to do this work. We urge the Trump administration's Department of Homeland Security to withdraw this proposal so that we – and maternal and infant public health programs across the U.S. – can continue keeping America's kids and families healthy.