How to Find Affordable Diapers and Close the #DiaperGap in L.A. County
The Washington Post tells the story of one South L.A. mom and her struggle to find affordable diapers:
The Walmart within walking distance of Nuri Mora's home in South Central Los Angeles, where a 74-count box of diapers sold for $28, closed in January. So now she boards a bus. It runs only every half-hour, and catching it means trailing a toddler, a stroller and an 8-year-old. It also means adding bus fare to the cost of the diapers — which are more expensive at other stores anyway.
Cheap diapers are hard to come by for the families that have the least to spend on them. Mora, 27, scans coupons and travels for bargains. She tells her children "no" at the grocery store, when she has to choose between the kiwis they want and the diapers 2-year-old Nathan needs. Then, sometimes, when she finds a good deal, it comes in the wrong sizes.
"Sometimes you have to decide between 'Okay, this box has 120 diapers, and this is the size that he doesn't use. But if I get the size that he's using, it's just 70 diapers, and I have 50 diapers more. So what should I do?' " she says, knowing that a too-small size might chafe her son's skin. "You just have to make things happen."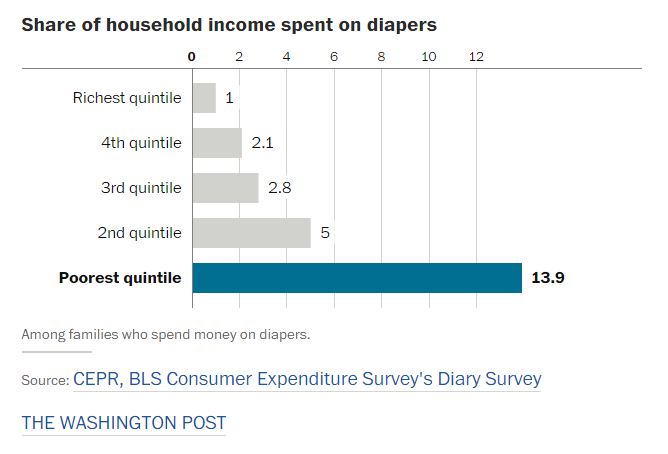 One in three families in the U.S. struggles to maintain a sufficient supply of diapers to keep their baby clean, dry, and healthy. And low-income families often have to pay more for diapers than those in the middle class. As a percentage of income, it's especially lopsided. A recent White House blog post sums up the problem: "Low-income families spend an average of $936 per child on diapers every year — double what some higher-income families pay. That can add up to 14 percent of their income, even before covering other essentials like rent, food, heat, and water."
And diapers are not covered by federal assistance programs such as WIC, SNAP, or Medicaid.
Some are calling for policy changes in Congress, but a baby with a dirty diaper can't wait. So we've compiled a list of organizations and services that can help right now. (Did we miss one? Share it in a comment at the bottom.)
Assistance With Diapers for Low-Income Families
Here are some Southern California resources that offer free or subsidized diapers to low-income families. We found many of these through 211LA.org, One Degree, and NationalDiaperBankNetwork.org, all of which allow you to search by ZIP code. Some local food pantries and churches also sometimes have diapers available to those in need. For those interested in cloth diapers, check out 10 Ways to Build a Modern Cloth Diaper Stash–on the Cheap, which recommends the service Giving Diapers, Giving Hope (GivingDiapersGivingHope.org). Trying to decide between cloth and disposable? Here's a comprehensive guide on how and what to choose.
Anne Douglas Center of the Los Angeles Mission
losangelesmission.org
213-614-0743 or 213-629-1227
310 Winston St., Los Angeles CA, 90013
Baby2Baby
baby2baby.org; info@baby2baby.org
323-933-2229
6435 Wilshire Blvd., Los Angeles, CA, 90048
(Note: Baby2Baby distributes diapers through organizations, not directly to families.)
Catholic Charities of Los Angeles – Our Lady of the Angeles Region – Metro Area – St. Mary's Center
catholiccharitiesla.org
213-251-3591
4665 Willowbrook Ave., Los Angeles, CA, 90029
Catholic Charities of Los Angeles – San Pedro Region – Long Beach Community Services Center
catholiccharitiesla.org/sanpedro.html
213-251-3432
123 E. 14th St., Long Beach, CA, 90813
Fred Jordan Mission
fjm.org
626-915-1981
445 Towne Ave., Los Angeles, CA , 90013
Good + Foundation LA
goodplusfoundation.org
310-439-5464; info@goodplusfoundation.org
4505 W. Jefferson Blvd., Suite 105, Los Angeles, CA, 90016
Grace Resource Inc.
graceresources.org (see infant-toddler assistance here)
661-940-5272
45134 N. Sierra Hwy., Lancaster, CA, 93534
Helping Kids to Recover, Inc.
helpingkidstorecover.org
310-217-0616; adelgadohkr@yahoo.com
637 East Albertoni St., Suite 200, Carson, CA
Home Aid Essentials
homeaidessentials.org; info@homeaidoc.org
949-553-9510
HPP Community Food Center
hppcfc.org
562-424-4477
3939 Long Beach Blvd., Long Beach CA, 90807
Love Inc. – Northeast San Gabriel Valley
626-858-3300
P.O. Box 3505, Covina, CA, 91722
Salvation Army Corps Community Center – Inglewood
salvationarmy-socal.org
310-677-3375
324 E. Queen St., Inglewood, CA, 90301
Salvation Army Corps Community Center – Santa Monica
salvationarmy-socal.org
310-451-1358
1533 4th St., Santa Monica, CA, 90401
Salvation Army Corps Community Center – Whittier
salvationarmy-socal.org
562-698-8348
7926 S. Pickering Ave., Whittier, CA, 90602
St. Joseph Center
stjosephctr.org
310-396-6468
204 Hampton Dr., Venice, CA, 90291
St. Margaret's Center/Catholic Charities of Los Angeles
catholiccharitiesla.org; info@CatholicCharitiesLa.org
213-251-3400
1531 James M. Wood Blvd., Los Angeles, CA, 90015
YWCA Harbor Area and South Bay
ywcaharbor.org
310-547-0831
437 W. 9th St., San Pedro, CA, 90731
1736 Family Crisis Center
1736familycrisiscenter.org
323-737-3900, ext. 244
2116 Arlington Avenue, Suite 200, Los Angeles, CA 90018
and
Tom Bradley Youth & Family Center, Satellite FamilySource Office
323-904-3832, ext. 211
5213 W Pico Blvd, Los Angeles, CA 90019