Happy #BMHW20! Share our new resource guide for African-American moms
Black Maternal Health Week is April 11-17, and LA Best Babies Network is celebrating by releasing a resource guide for African-American moms and moms-to-be.
Launched by the Black Mamas Matter Alliance, the Week draws attention to the need to improve pregnancy and childbirth outcomes for African-American women. This year's theme is "Centering Black Mamas: The Right to Live and Thrive."
With recent news on how the coronavirus is engulfing Black communities, it's clear that the crisis of racism and racial health disparities is its own public health emergency.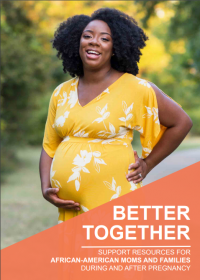 Our resource guide is certainly no panacea, but we hope it will make it easier for African-American women in L.A. County to find support before, during, and after pregnancy. It includes community directories, support groups, doula and home visiting services, and sections on breastfeeding, fatherhood, and family planning — plus a list of helpful apps and social media resources at the end. Download the guide here and please share it far and wide!
For a good rundown of Black Maternal Health Week events — in L.A. County and nationwide — see BlackInfantsAndFamilies.org/bmhw2020 and follow #BMHW20 on Twitter and Instagram.