Comparing Virtual to In-Person Home Visiting in the Welcome Baby Program
Before the pandemic, home visiting was just what it sounded like: trained professionals visiting the homes of pregnant people and new parents to provide a variety of support services. But when COVID hit, the home visiting programs in our Family Strengthening Network quickly found ways to meet families and deliver services through the screens of phones, tablets, and computers. A few programs, like USC Telehealth's Parents as Teachers, had already been doing this, but there was very little research on the effectiveness of virtual home-based support.
Now, with more than a year of virtual visiting experience and data to draw on, we (LA Best Babies Network) and our partner/funder First 5 LA have released a paper on how the pandemic has affected outcomes and services of L.A. County's Welcome Baby program. Published in the July 2021 issue of Maternal and Child Health Journal, "Shifting from in-person to virtual home visiting in Los Angeles County: Impact on programmatic outcomes" compares key data metrics from before the COVID-19 pandemic (March – December 2019) to data collected during the COVID-19 pandemic (March – December 2020).
Key Findings
Although the data reveal some challenges in a virtual format, overall they suggest that virtual home visits in the Welcome Baby program are feasible and provide valuable benefits to families. Welcome Baby home visitors were successful at completing virtual visits and required programmatic objectives during COVID-19 to the same extent as prior to the pandemic.
Specifically, we found that during the COVID-19 pandemic:
Prenatal enrollment decreased by about half
Missed visits increased slightly
Completed visits increased from 2,811 to 3,138
Visit length decreased from 73 minutes to 54 minutes
Completion of required assessments (Life Skills Progression, Generalized Anxiety Disorder [GAD-7], and Patient Health Questionnaire [PHQ]) remained the same
Overall client program completion remained the same
Note that these numbers are based on averages across all Welcome Baby programs throughout L.A. County. See figures below.
"This is great news for the families in Los Angeles County," said Martha Bock, Public Health Research Associate at LA Best Babies Network and a lead author of the paper. "Each of these data points represents a real family that was able to receive much-needed services during a really difficult time."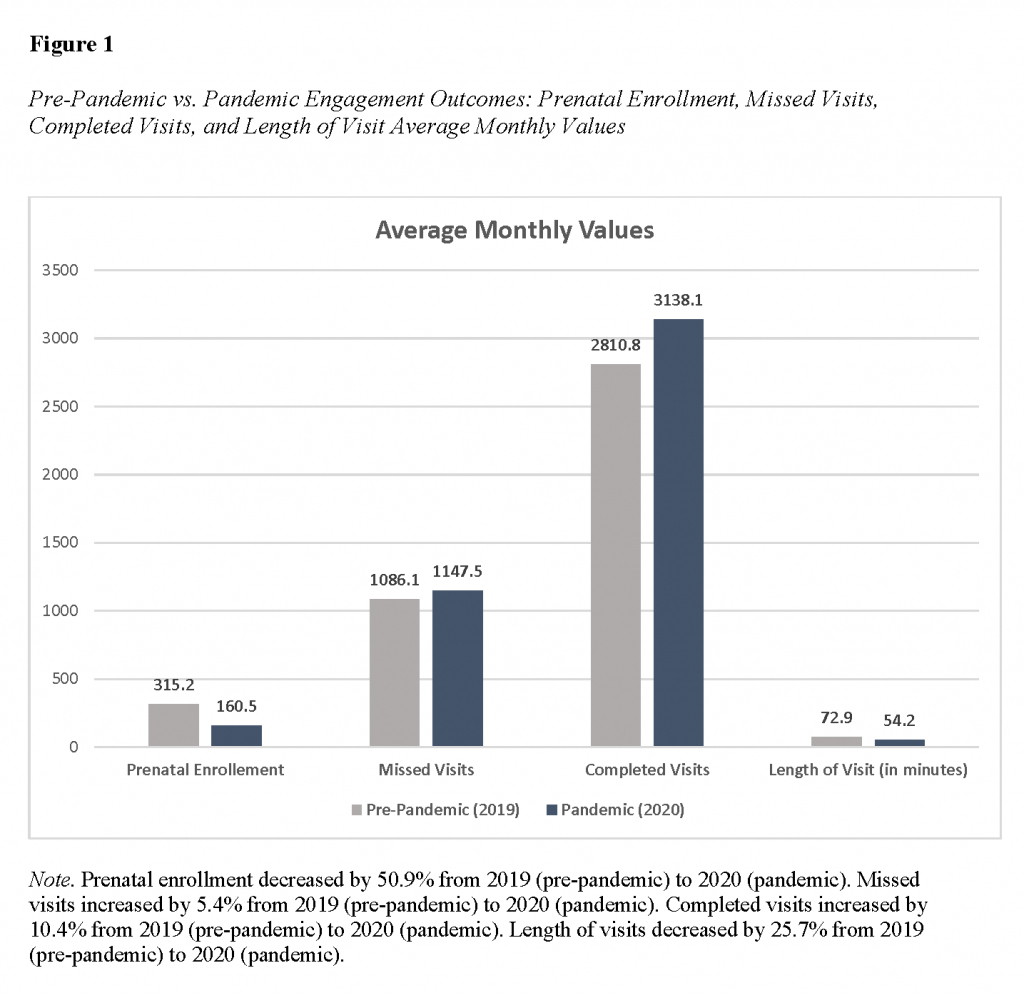 Read the full paper here or download a pdf here. Authors:
Martha Bock, Public Health Research Associate, LA Best Babies Network
Kayla Kakavand, Public Health Research Associate, LA Best Babies Network
Diana Careaga, Director of Family Supports, First 5 LA
Sharlene Gozalians, Director, LA Best Babies Network
Read about the First 5 LA-funded Family Strengthening Network, which serves L.A. County families with Welcome Baby or one of its partner programs that use either the Parents as Teachers or Healthy Families America home visiting models. Expecting families can learn more about Welcome Baby and sign up at WelcomeBabySupport.org.