Resources on Children's Dental Health
[UPDATE, 8/8/16: See The Children's Partnership's new report, Healthy Mouth, Healthy Start: Improving Oral Health for Young Children and Families Through Early Childhood Home Visiting.]
February is Children's Dental Health Month, and we've rounded up some resources that can help families learn about getting preventive dental care for their kids.
The nonprofit Children's Partnership reports that tooth decay is the most common chronic disease and unmet health care need of children in California, even two to three times more common than childhood obesity or asthma. And its ramifications are wide-ranging: persistent pain, trouble eating and sleeping, missed school days, and expensive emergency room visits for preventable dental problems.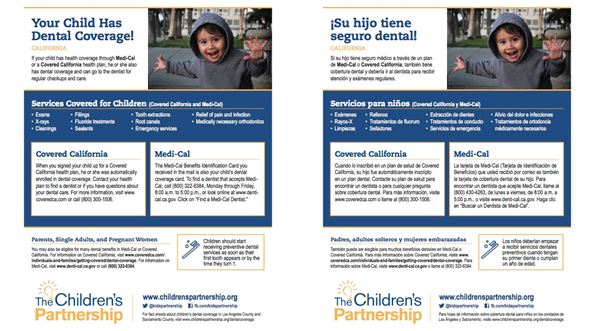 A big part of the problem may be that many families don't know that their children have dental coverage or how to use it to get regular checkups.
Help get the word out by distributing the Children's Partnership's new flyer: "Your Child Has Dental Coverage" / ¡Su hijo tiene seguro dental!
The flyer makes it clear: "If your child has health coverage through Medi-Cal or a Covered California health plan, he or she also has dental coverage and can go to the dentist for regular checkups and care." Read more about what The Children's Partnership is doing to celebrate Children's Dental Health Month.
For the latest on dental health care coverage in California, see the Denti-Cal website. Also see the "Oral Health During Pregnancy Conference" video below from Maternal and Child Health Access.
More resources
Video
This video from Maternal and Child Health Access presents highlights of a conference on "Oral Health During Pregnancy." Also see the MCH Access webpage on Oral Health Advocacy for Pregnant Women and Children.